Advanced Predictive Time Trading
FREE DEMO - Advanced predictive trade times lead the way to trading success.
my review may be a little bias as I met…
my review may be a little bias as I met one of the owners before buying the product, we established a friendship before I ever approached him about his product, not once in our time together had he ever tried "selling" me on the idea of trading the stock market, or buying his product and becoming a customer, I have now been a customer for 3 months now and I am completely blown away with the tools that we have at our disposal, the weekly training we do together and the open and honest discussions about how to be successful. I still have so much to learn but this system and tools makes the learning curve of trading much easier
Fantastic software for trading
Fantastic software for trading, I've been trading for several years, got lots of software I'll give you for free that is sitting on my shelves, however, this is as good as it gets, there is so much to say about WARP that if you are an experienced trader you would recognize in a couple of days of having, the signals are like nothing I've seen before, not to mention the people that work there, they are top notch folks. Glad I found them.
BTTF software and trade rooms
Michael, I really like the structure of the room, but have trouble keeping up with your trading, thus I am going slow. I am trading CL with the 3 minute FORCE chart paired with the 1 min PVT. Working great, hit double goal (100 ticks) this morning on 1 trade before room opened! I am looking at adding the Voyager tuned 5 min NQ next. I have the 30 range PVT giving me signals at the time of the FORCE chart signals. Took 120 NQ points this morning on 5 trades, in SIM. I am trading this with micro's and looking for big targets, and fewer trades. These trades were off of your charts, since I do not have my NQ Voyager chart set up. Thanks, Mark As a side note for anyone reading this, please recognize that I have owned BTTF software for a few years. There is a lot to learn, but Michael and Ron are always very helpful. Get the software, learn the process, you will not be sorry!
Today I could not believe (well, actually I could) when I saw the undeniable precision of the time signals created days in advance by the Time Warp indicator! Michael and Ron are absolute geniuses!!!
I could wax lyrical about BTTF trading so I'll make it brief and save you a lot of time. Like most traders I was in search of trading nirvana, in and out of rooms that never worked and buying endless gold mine software, or so they said. I tell you, BTTF trading is as close to nirvana as you'll ever get when it comes to trading software. Trading friends, your search ends here.
Character is defined by how you act when no one is looking...
...and Its after the sale when all the newness wears off that this group shines the most. They deliver.... PERIOD. It's hard to add anything new to the glowing reviews about Back to the Future Trading that hasn't already been said other than to confirm they are absolutely true. They are honest, sincere, fun to interact with people.... and their trading philosophy is truly unique and developed over time through inspiration. I have been on a quest to find a trading system that works. FORCE works. Don't think you can just push a button and have the money roll in. Trading is hard and this system doesnt make it automatic. That's where their commitment to education and training just blows everyone else out of the water. They wont leave you hanging. You receive personalized training to help develop your own strategy. Michael, Ron and Rachael are special people who have proven to me they care about my success. Cant say enough good about them.
The truly selfish side of me is begrudging writing this review, it want's to keep this software a secret!! It is by far the most impressive system I've ever experienced. I was not a new trader at the time of joining, I had around 2years experience and so I believe I picked up the use of the software easily and began to use it successfully within days after some SIM trials first. It can be used in-line with existing concepts you may have, or if your brand new or need a memory wipe of all else that's failed, then this software and system is amazing. Granted, I paid for an extra hour of tuition with Ron, I'm glad I did as it's refined by entry criteria and this in turn reduces the amount of time I spend studying the charts. In fact it's totally changed the way I look at the charts. I'm glad to be part of something special, a family of enlightened and informed traders. Don't be under any false sense of illusion, you will not be perfect within a week or flawless within a year, but if you follow the simple rules you will be successful. Ron has a live trade room where he displays PnL and daily/weekly/monthly values - There's no BS here at BTTFT! The software is expensive, but if you want the best I believe it's worth paying for. If your reading this and thinking - this is maybe a bit over the top, fine don't believe me, gain evidence...Well, here's what you can do.... Watch the YouTube videos (free) Join the weekly Webinar's (free) Contact the BTTFT team (free) If your not convinced the you'll miss the best opportunity I know of in trading. If you have used due diligence, read reviews and followed my suggestions above... Pay the price and welcome aboard, you're joining a pretty profitable and exciting journey with the rest of us! Thank you BTTFT - I'm so glad I found you and this Time based way of trading.
Response from Back To The Future Trading
Thank you Robert....it's been a pleasure serving you, and helping you get to the point that you're at now. Thanks for posting your review. We appreciate you!
You have found the best tools and…
You have found the best tools and community in the hole world, there must be a reason for you be reading this and What I hope for you is that you can join with us to make trading more fair to the retail traders like us! since you join Their are compromised with your success and always willing to help. What you will learn here is something AWESOME that hopefully will resonate with what you are looking for and complemente your view of the markets with NATURAL LAWS this is something you only will find HERE! As you read this I hope you can join to this revolution of knowing about markets with tools that are just REVOLUTIONARY! See you in the other SIDE! JAZA
Warp is 100% worth the investment
Been using warp for about a little over a month now on the NQ, CL, ES and RTY and I couldn't imagine trading without warp now. I feel naked when ever I look at a chart without the predictive signals. I personally haven't been able to make any money with it yet, but I can consistently catch 1 to 4 HUGE moves on the simulator per day which makes me excited about my future with trading. My advice to trade this software profitably is to hunt for the trade of the day as there is almost always a signal before a big move. Avoid market open volatility, and avoid times with low volume. Be patient, wait for the market to pick a direction, look for a clear counter trend move into a signal (pull back to the EMA) and take positions with the trend. trail your stop and dont be a dick for a tick!
BTTF is the real deal. The support is super! I have been using WARP for about 7 weeks. There are a lot of videos to learn on your own, but the key for me is watching Ron in the trading room and learning from him "live" how the tools work. Ron is a great teacher and makes the room fun...and making cash along the way is the perfect setup!
Back to the Future Trading is truly the BEST!
Back to the Future Trading has all the tools you need for the most precise market analysis and offers the best trading system I have encountered. Whether you are a seasoned trader, or better yet, just starting, there is no better way to learn. It is a simple method that will keep you out of bad trades and on the right side of the market in the majority of your trades with minimal risk. Ron is an amazing teacher and I could not recommend him enough! Also, thanks to Rachel and Michael for your support. Really appreciate you all!
Force is fantastic!! It gives you a clear edge on risk management as well as what expectations are for the instrument you're trading. You can literally dial it in as you see fit and trade with 100% confidence. The teaching is excellent. The customer service is very friendly and inviting. Not only is Force a great tool, BTTFT is a crew that I enjoy talking to and listening to. A buddy of mine had been telling me about BTTFT for a few months and I kept putting it off. Every Thursday he'd send me a webinar link. Finally, I watched it and was intrigued. When Michael sent the Warp predictions for the week to the mailing list, I requested one for a different instrument just to see. It was very accurate. I reached out to Michael and we talked. I purchased Force. I was still a bit on the fence, but was so convinced with Warp that I wanted to see what Force was about. The training is fun and Michael and Ron are great teachers. Rachel was super helpful in getting all setup. I passed my trader eval pretty quickly and had some overall great days with some minor losses. The R:R was very good. I wanted to wait before writing this review because I've been lucky before and then lost it all and blown funded accounts before. I've now been on Force for a full 30 days and I'm very satisfied and glad I made the purchase. If you decide to purchase Force, take the time and dial it in. Understand what the numbers really mean to you and your risk and trade accordingly. My experience for context: I've been trading Futures since June 2021. I, unfortunately, missed the bull run in 2020. But because of that, I've had the pleasure learning and the misery trading the sideways and very volatile markets. I've tried just about every indicator and strategy out there. I've spent so much money on systems that ultimately I don't trust. I'm still paying for some of them even today. Force is a system I trust and that is very important to me. When I'm wrong, I 100% understand why and it doesn't lose my trust. It really keeps you and your risk in check and you can fine tune with clarity. Hope all that helps! Feel free to reach out if any questions.
My Name is Paul H, and here is my trading journey before the purchase of TechEonWarp. I would Win some and lose to many. After I purchased the software and learned how to use it with instructions Ron and the many educational videos in the members area. I have managed to make more than I purchase the software for, it's a awesome tool to show direction and keep me on the right side of the trade. Before I had this software I would just buy and sell as per Supply and Demand level and not have a clear exit point. The software has certainly given me a clearer picture of the market. Please share this with Ron and Michael. Thanks BTTF
Response from Back To The Future Trading
Thanks Paul for writing this. It helps people know that actual traders are using the software, and are having real world human experiences with the tools, markets, and support staff here. We're here for whatever you need going forward....
Good People Great Software
This company has great software to understand turning points in the future. It is real and works constantly. Requires some work at taking in the methodology, Their support is exceptional and they are friendly and helpful. The training room is pleasant and personal also actionable trades happen every session with a great top down analysis in ES CL RTY . Ron is a honest playful and fun character to wake up too. real trading with the software
Response from Back To The Future Trading
Thanks Mike - Ron loves having you in the training room. You're a great customer - and we appreciate the feedback! Glad you're profitable!......
I have been a customer of both Michael…
I have been a customer of both Michael and Ron, through the companie's growth from Warp to Voyager. I would say that my income has grown expedienly. I have found all members of Back to the Future Trading, to be responsive and helpful in implementing/training the programs. If I were asked, if it was worth the money, I would say yes and would do it again. If I only looked at price action and gave no heed to the resonant frequencies...let's just say I would live with the rabbits. Thank you
Espectacular. Hace ya unos años que tengo el sistema pero no lo utilizaba, pero hable con Michael y tuvimos una reunion y aclaré ciertos conceptos de la configuración. Desde aquel día mi trading se ha vuelto aburrido y monótono. Cada día acabo verde y solo opero ES. Es brutal, parece mágico. Back to the future trading ha hecho un trabajo enorme y tiene una herramienta genial. La mejor inversion de mi vida.
Try it, learn it, use it and you will love it !!!
I've been using the BTTFT predictive trading software for many years and I have not been to be disappointed. The crew Michael, Ron and supporting staff are very transparent and have made this trading software experience like no other and believe, you me, I've had some experiences with trading software, beginning with the crossing red and green lines, yeah you know, that's how far back I go. This is a company of integrity and honesty and the software works great as long as you put in the time and effort to learn and uderstand it. The BTTFT family makes this very easy, by availing themselves to answer questions and even remoting into your computer, if needed. Try it, learn it, use it and you will love it.
Another satisfied customer!
I have been using the BTTF Warp software for 3 years now and am still astounded at how well it functions in volatile markets. Customer service is second to none. I highly recommend BTTFT. T.B.
Works better like a Swiss watch
Great products, supported by very kind team that is very responsive and helpfull, also a lot of learning material. Thank you for all the support!
I like Mike and the team over there
I like Mike and the team over there. I have purchased several of the software they sell. I wouldn't be a repeat customer if the software didn't work. It works if you do.
Response from Back To The Future Trading
Thanks Thomas, we appreciate you and are glad you're doing well with the software. Let us know if there's anything else we can do for you going forward in the future...
Predictive mining signals based on
highly accurate data mining and
advanced Gann techniques for
traders of any experience level in
futures, forex, equities, and options.
*By signing up for our demo you agree to receive emails from Back To The Future Trading. (ie. newsletters, representatives.) Your information is confidential and will not be shared. Check you inbox for a confirmation after signup.
LATEST POSTS FROM TRADING INSIGHTS
MOVE PAST THE LAGGING TECHNICAL
ANALYSIS OF THE 80'S AND 90'S
Instantly scan the historical data of any instrument to identify recurring behavioral times and movement directions to identify upcoming high probability trade times.


Use the signals as stand alone trade entries, or pair them with your existing system to help filter and identify which entries are mature and have the best chance of evolving.


Reduce trade frequency, tighten stops—and let winners run as you track institutions who rig markets to trap traders.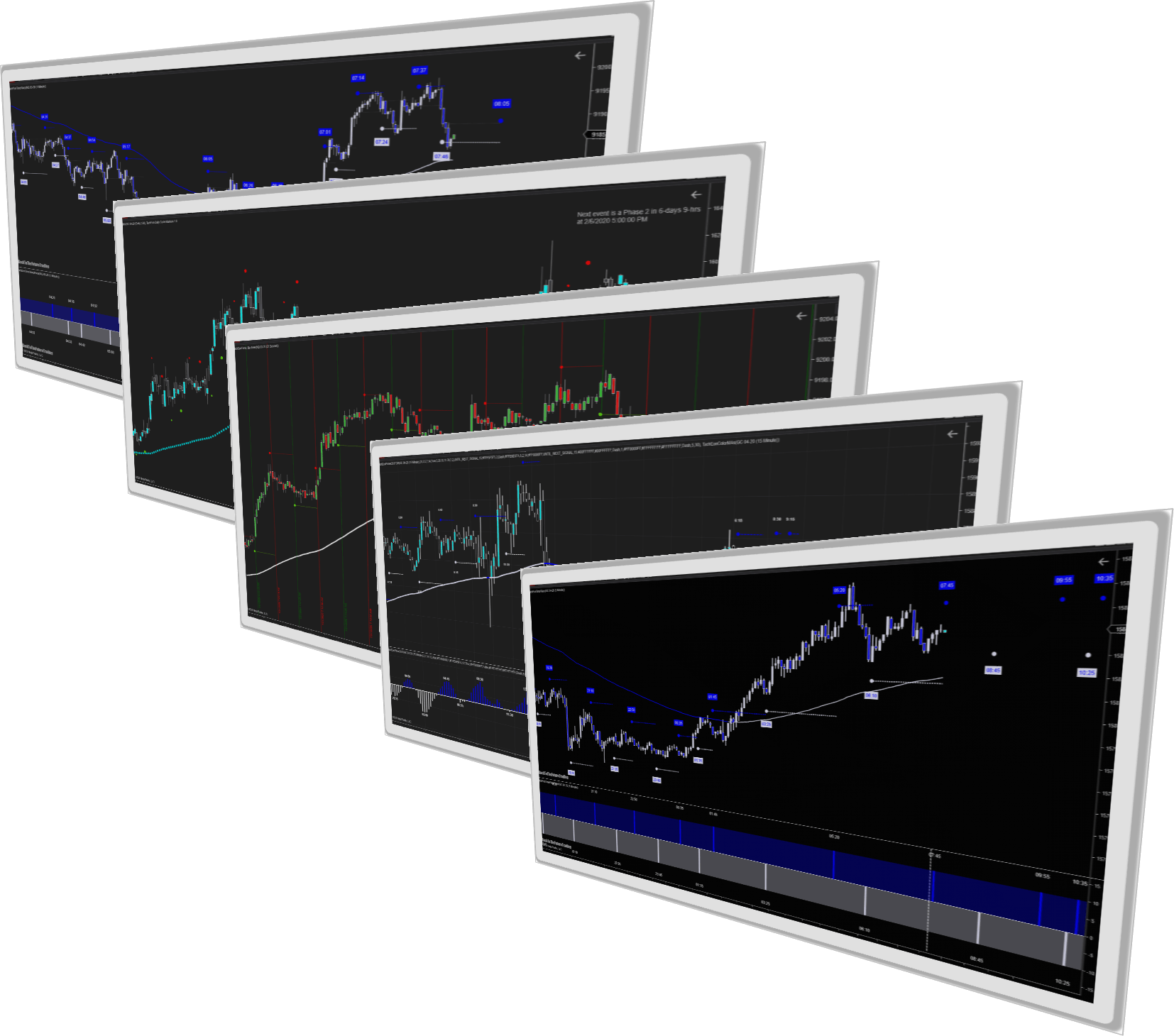 It's time to change from
LAGGING to LEADING trade tools