How I trade predictive time signals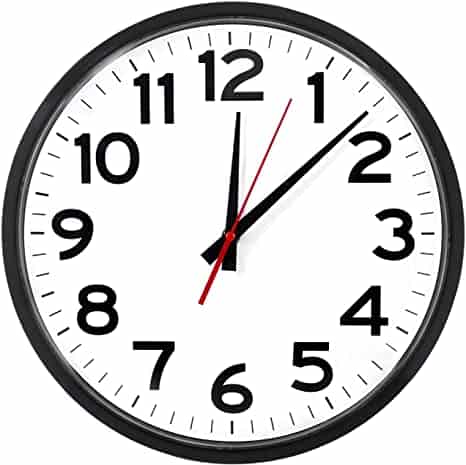 Contributed by Juan Vega / Futures Trader / Colombia
It's fascinating been exposed to the 30 largest companies of the US in the future market. The E-mini-Dow represents a portion of the standard Dow Jones industrial average futures. Three months from now I been trading the E-mini dow jones contract using predictive signals in 1 and 3 minutes timeframe.
I also have included in my 1-minute chart the 120 EMA of my 3 minute chart, just to have a visual zone, where the price can react.
The minimum price fluctuation specified by the CME group is $5 dollars. There are other markets more attractive that pays "more" per tick. But what fascinating me is the "behavior" of the market during the predictive times signals that the software gave me in advance. In my chart the yellow dots are selling pressure signals and the white dots are buying pressure signals, you can change the color if you want, it's just my preference.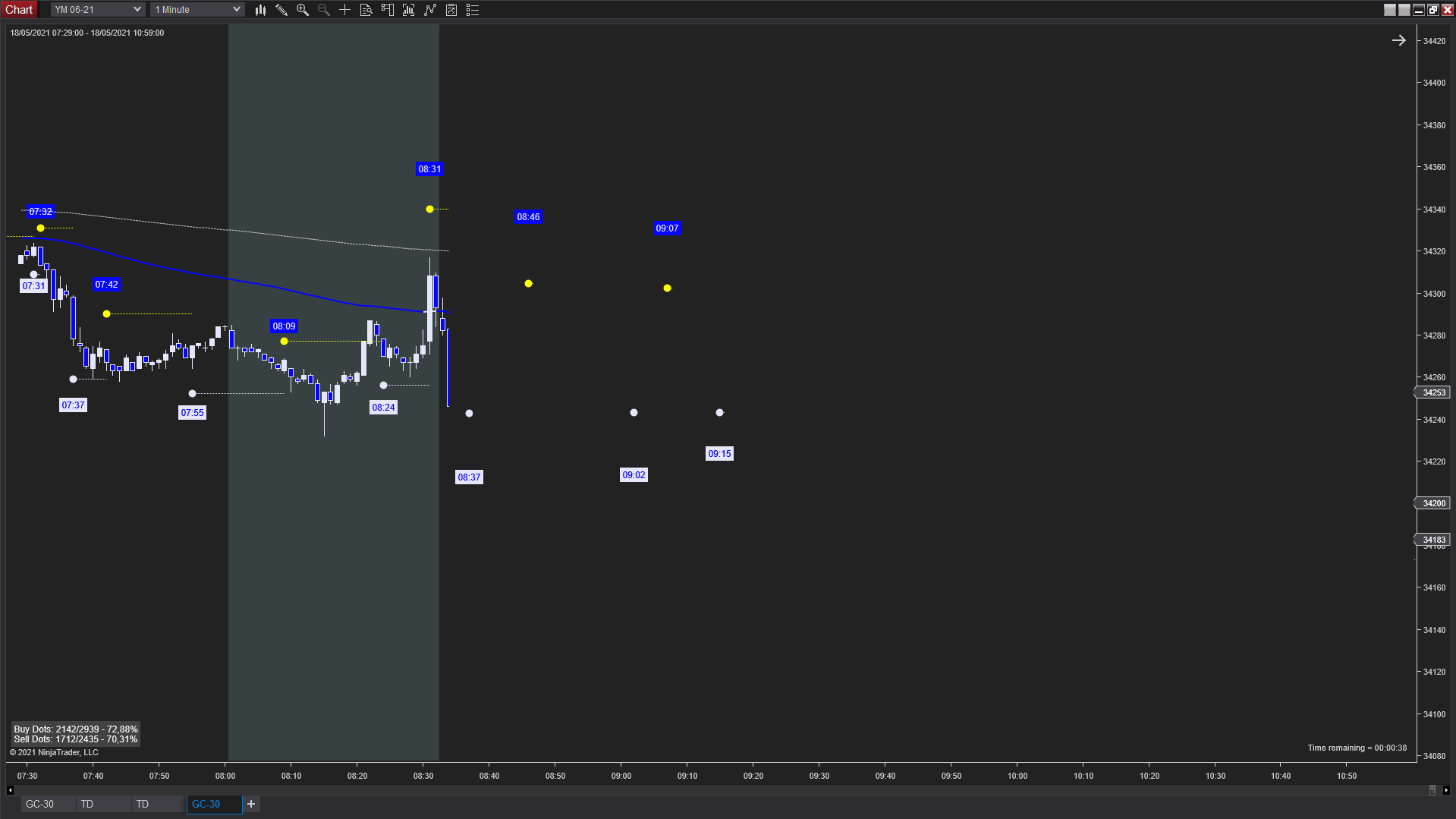 In markets like NQ or ES I wait the second or third signal after the opening bell, But with the YM, I have tested and open trades during the opening bell. I have included in my trading plan that option only for the YM, I also open trades if I have a signal before like 8:21 or 8:25 and hold until the open.
I also check my economic calendar for the day, just to see the context of the day, but, honestly, I just execute the time cycles trading signals, that my system says to me.
As a result, I open 2 trades in the YM with 4 contracts each trade. I also knew that the housing starts and permits news was at 8:30.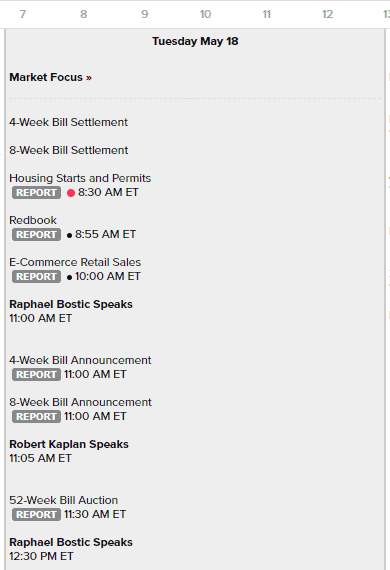 Patiently I wait the reaction under the 3 min 120 EMA and make the entries when the candle close under the 1 min 120 EMA.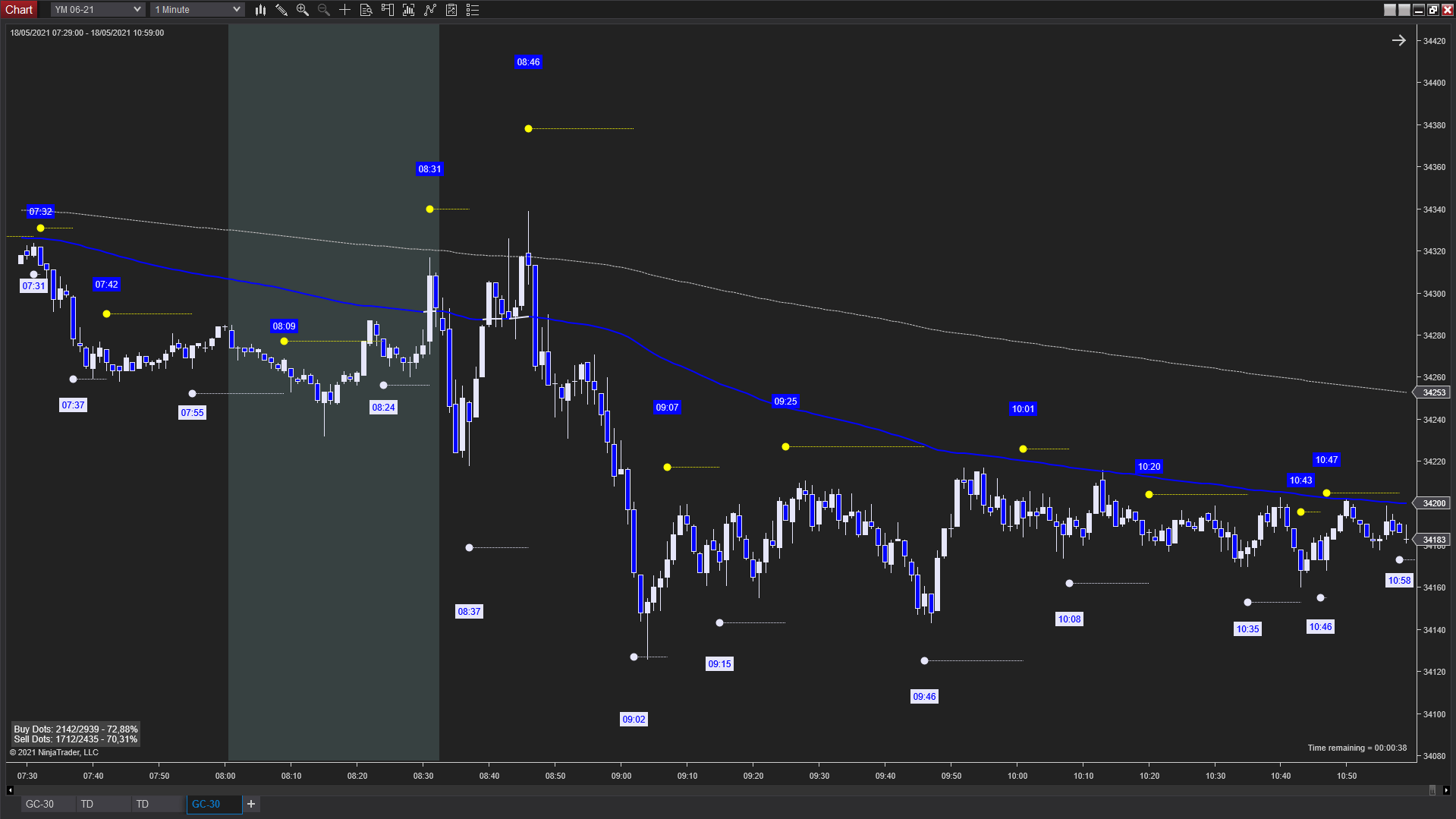 First trade 45 points x $5 x 4 contracts, the second one 100 point x $5 x 4 contracts. I was near the 3k today.
My stop loss changes from 32 pts (32 x $5 x 4=$640) based on the ATR (Average True Range) in that moment for 4 contracts to 64 points for the second trade. This ATR for me is too big, so I wait the candle close confirmation under the 120 EMA.
The predictive signals "aligned" with the swing highs and lows of the movements the institutions have done in the past. I know that, since yesterday.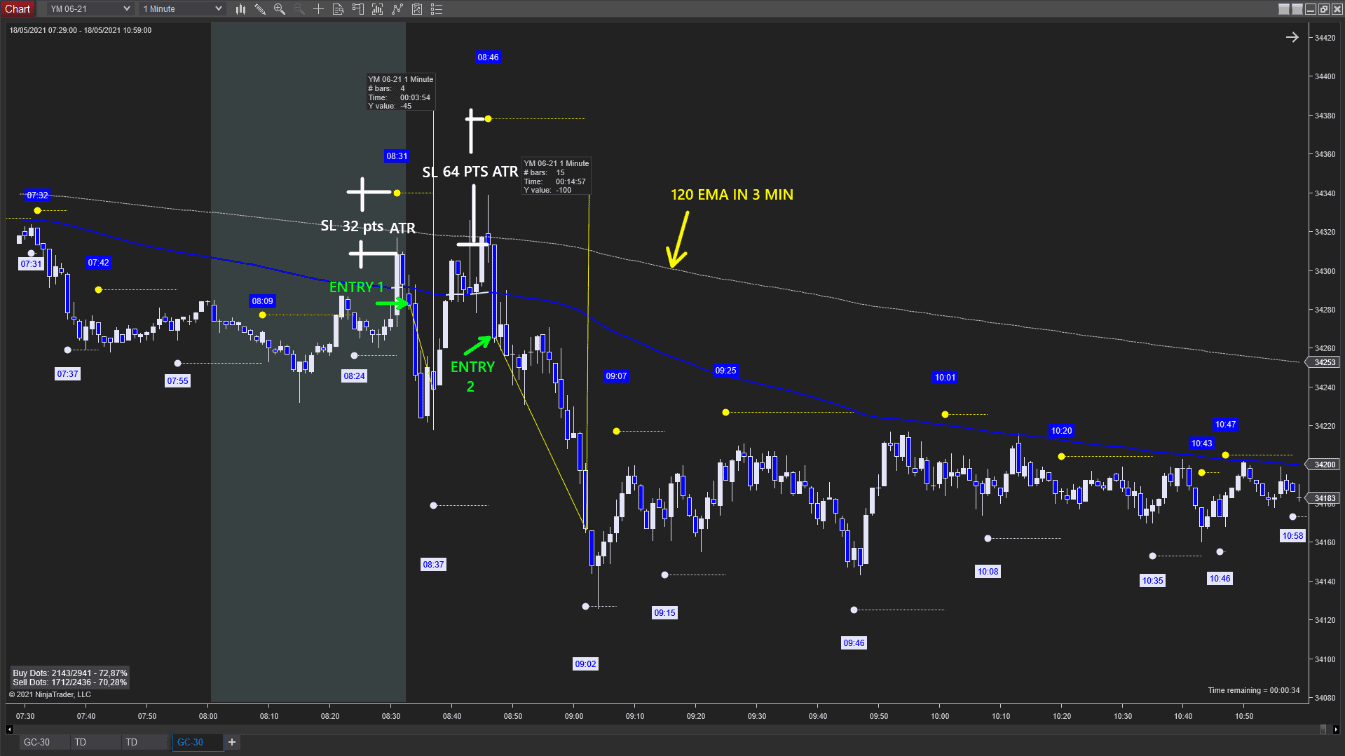 Now the most beautiful for me, is, I make my day.
What can I do with the rest of my free time?
That's Professional Trading. Time to think, for family, for me, and create new investments.
Juan Fernando Vega
Bogota-Colombia
Spanish - Support