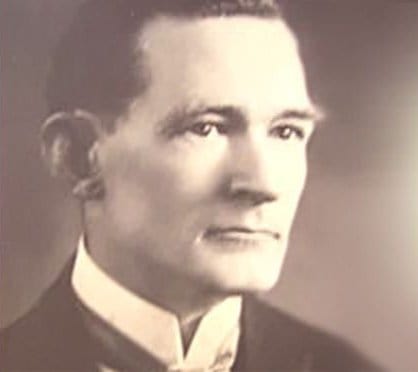 Interviewer: Good afternoon, Mr. Gann. Thank you for taking the time to speak with us today.
W.D. Gann: It's my pleasure. Thank you for having me. This is a nice change up for me, actually. 
Interviewer: How's that?
W.D. Gann: There's no Wall St. in heaven, and I miss the markets a little, to be honest. I like talking about them to other people. 
Interviewer: Happy to provide a change of pace for you. Can you tell us a little about your family and how they supported your interest in trading?
W.D. Gann: Certainly. My father was a farmer, but he also had an interest in the markets, and he encouraged me to pursue my own interest in trading. My mother was also very supportive and instilled in me a strong work ethic and determination to succeed. 
Interviewer: Mr. Gann, can you tell us what life was like for you as a young boy?
W.D. Gann: Certainly. As I said, I grew up on a farm in Texas, and as a young boy, I was responsible for helping out with the chores and working in the fields. It was a hard life, but it taught me the value of hard work and perseverance. Despite our rural surroundings, my parents placed a high value on education, and they encouraged me to read and learn as much as possible. I spent many hours reading books on a variety of subjects, including science, mathematics, and history. These early experiences had a profound impact on my later life and career.
Interviewer: Mr. Gann, can you tell us what life was like in the town you grew up in?
W.D. Gann: Sure. I grew up in a small town in Texas - Lufkin -  and life there was very different from what it is today. It was a close-knit community, and everyone knew each other. People worked hard to make a living, and there was a strong sense of self-reliance and independence. I remember spending many hours working on our family farm and helping out our neighbors. We didn't have many of the conveniences that we take for granted today, such as electricity or indoor plumbing, but we made do with what we had. Despite the challenges, it was a wonderful place to grow up, and I'm grateful for the lessons and values that I learned there.
Interviewer: That's interesting. How did you develop your interest in the markets?
W.D. Gann: I became interested in the markets after working as a telegraph operator for several years. I was fascinated by the fluctuations in market prices and the ways in which various factors could influence those prices. I spent countless hours studying and analyzing market trends, and eventually developed my own unique approach to trading.
Interviewer: Ever take time to settle down and start a family in-between all those books?
W.D. Gann: (laughs) Yes, I actually came out of the library into the sunshine from time to time. Long enough to get married in fact. 
Interviewer: Yes, I was going to ask you about that. Can you tell us a little about your wife, Nora?
W.D. Gann: Yes, I married Nora in 1902, and she was a wonderful wife and mother to our six children. Nora was a strong and supportive partner in my work, and she played an important role in my success as a trader. She helped me with my research and analysis, and she encouraged me to continue pursuing my interest in the markets even when times were tough.
Interviewer: Can you tell us more about your children?
W.D. Gann: Certainly. We had four daughters and two sons. My children were a great source of joy and inspiration to me. I encouraged them to pursue their own interests and passions, just as my parents had encouraged me. While none of my children became traders like me, they all went on to successful careers in various fields.
Interviewer: It's wonderful to hear about the support of your family. Can you tell us how they influenced your work as a trader?
W.D. Gann: My family was a constant source of inspiration to me. They encouraged me to pursue my dreams and to never give up, even when things got tough. They also played an active role in my work as a trader. My wife, Nora, was a trusted partner who helped me with my research and analysis. My children were also interested in my work and often asked me questions about the markets. Their support and encouragement helped me to stay focused and motivated throughout my career.
Interviewer: Tell me a little about your siblings. Big family?
W.D. Gann:  By your standards, absolutely. I had three brothers, and two sisters, who were quite a handful for my parents. One of my brothers - John - he left the farm and became a successful businessman and actually helped me with my trading career by providing financial support in my early days. 
Interviewer: How important was the support from John?
W.D. Gann: It was tremendous - and a huge blessing. During my early days, John's backing allowed me to trade more capital than I could have otherwise, which allowed me to take bigger risks and build my working capital up exponentially faster. John believed in me, and was proud of my accomplishments later as I refined my techniques. 
Interviewer: Can you tell us more about your trading strategies?
W.D. Gann: My approach to trading is based on a combination of fundamental and technical analysis. I studied market cycles, price movements, and other factors that can influence the market. I also relied heavily on astrology and numerology to predict future market movements. But it's important to note that I didn't rely on these methods alone. I combined them with rigorous analysis of market data and trends.
Interviewer: You mentioned using astrology and numerology to predict market movements. Can you tell us more about how you used time and vibration in your trading?
W.D. Gann: Yes, time and vibration were key elements of my approach to trading. I believed that everything in the universe, including the markets, followed certain natural cycles and patterns. By understanding these cycles and patterns, I could make more accurate predictions about future market movements. I used various techniques, such as calculating price and time targets based on geometric patterns, to identify these cycles and patterns.
Interviewer: That's fascinating. Can you give us an example of how you used these techniques in a trade?
W.D. Gann: Sure. In one trade, I used a technique known as the "Square of Nine" to calculate price and time targets for a particular market. Based on my analysis, I predicted that the market would reach a certain price level on a specific date. When that date arrived, the market did indeed reach that price level, and I was able to make a significant profit.
Interviewer: Mr. Gann, your trading techniques were quite unique and unconventional for your time. Astrology. Predictions. Geometric patterns. How did people react to them when you first introduced them?
W.D. Gann: Well, when I first began using my techniques, many people were skeptical. They thought that my approach was too complex and esoteric, and they didn't believe that it could produce consistent profits in the markets. However, over time, as I began to share my ideas and techniques with others, more and more people began to see the value in what I was doing. Eventually, I gained a reputation as one of the most successful traders of my time, and my methods became widely respected and imitated.
Even today, many traders continue to study and use my techniques in their own trading. Many still don't believe that time predictions can work though, something I've been observing from up here. It's disheartening. 
Interviewer:  Meaning?
W.D. Gann: I'm was always fascinated how complicated people made their trading decisions because they didn't believe the markets were predictive. After I was interviewed for the Ticker and Investment Digest - and they reported on my trades - people still didn't believe markets were predictive. Apparently that still holds true today. My friend Richard Wyckoff said that people don't like 'thought and research'...hated it, in fact. I can see how my techniques might intimidate them based on his assessment. It requires a little extra analysis. A leap of faith, if you will. 
Interviewer: Interesting.  What advice would you give to new traders today?
W.D. Gann: My advice would be to never stop learning. The markets are always changing, and it's important to stay up to date on the latest trends and developments. It's also crucial to develop a solid trading strategy and stick to it, even in the face of adversity. And to study Vibrational law, and the cycles of the markets. It's all based on Nature and Natural Law - which never changes. 
Interviewer: Thank you for your time and insights, Mr. Gann. It's been a pleasure speaking with you.
W.D. Gann: Thank you for having me.